Lucidaëlle
Artist of truth and aliveness!
Lucidaëlle: Artist of truth and aliveness!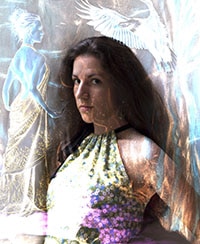 Multi-talented young woman, Lucidaëlle is at the forefront of a new life for art and artists. Her secret?
The harmonious mix between her spiritual quest and love of beauty.
A unique heroic journey, where she defies her own limits, both in her inner experiences and in the learning of all possible art techniques. Nothing can stop her!
Each of her works rise a veil. Veil raised on nature. Veil raised on heaven.
For each drawing, each painting: the release of a sacred truth. Which nourishes the Spirit. Which nourishes the heart.
Contemplating them allows an opening, an encounter with the invisible worlds and their mysteries. A question. An answer. A healing. A path of awareness and wisdom, through the purity of the image.
Her art is dynamic. Luminous. Universal. Essential. It is generous and reaches out to all.
Through the "Art of truth", let's open our hearts and fully embrace life: this is the adventure proposed by Lucidaëlle.
Welcome behind the veils of … your own world!